FLUXearch®
FLUXearch is FLUXANA´s comprehensive reference material database with nearly 20,000 products.
With it you can easily search for RM´s and CRM´s and request quotes for the desired materials.
Click here to register or log in your FLUXearch account.


---
1.) Registration
Click on Register here: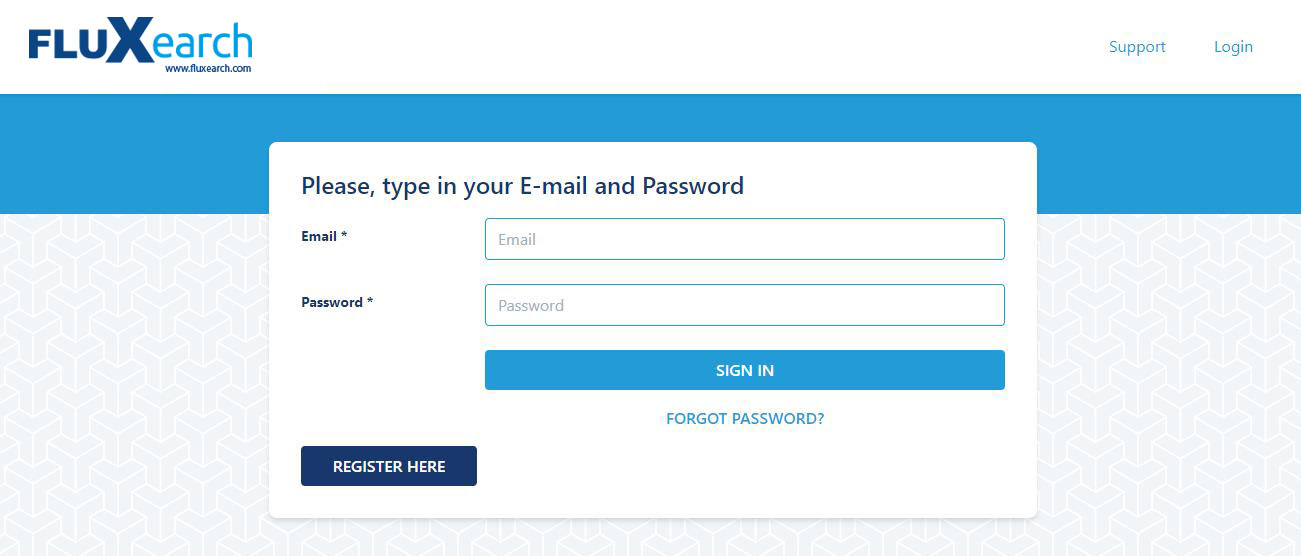 Fill in all the required fields. You will be registered automatically and a confirmation email will be sent. After logging in, you are free to use the database.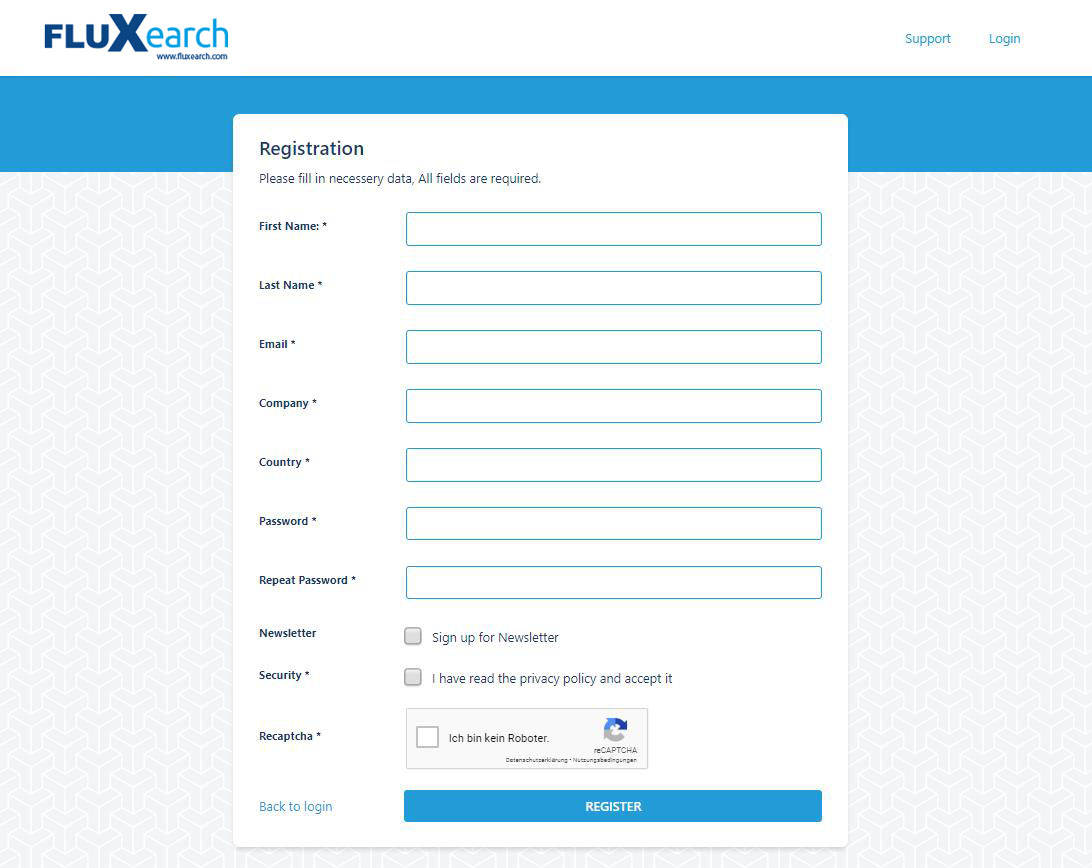 User information (PDF download)
---
2.) Search by Element Concentration
Select Search by composition.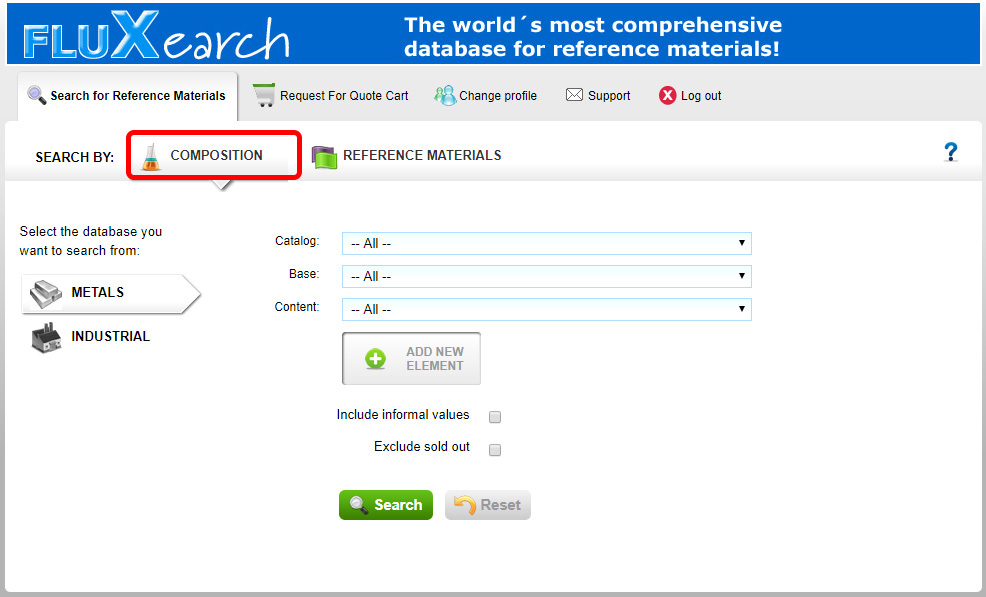 Then select METALS or INDUSTRIAL

In METALS you can choose between three catalogs:
Alu

 (all aluminum based materials as discs of chips)
Chips (all Al metal alloys as chips)

Solid

 (all Al metal alloys as discs)

In INDUSTRIAL, everything is in one catalog.
Additionally, you can select a base or, even more specifically, a catalog chapter.
Be aware that your choice limits the search. If you are not sure don't specify these
selections and leave them as All.
It is also possible to define concentration filters as shown in the example.
Sold out standards can be excluded by selecting "exclude sold out". Non-certified concentrations
can be included in the search by selecting "include informal values."
Finally click on Search.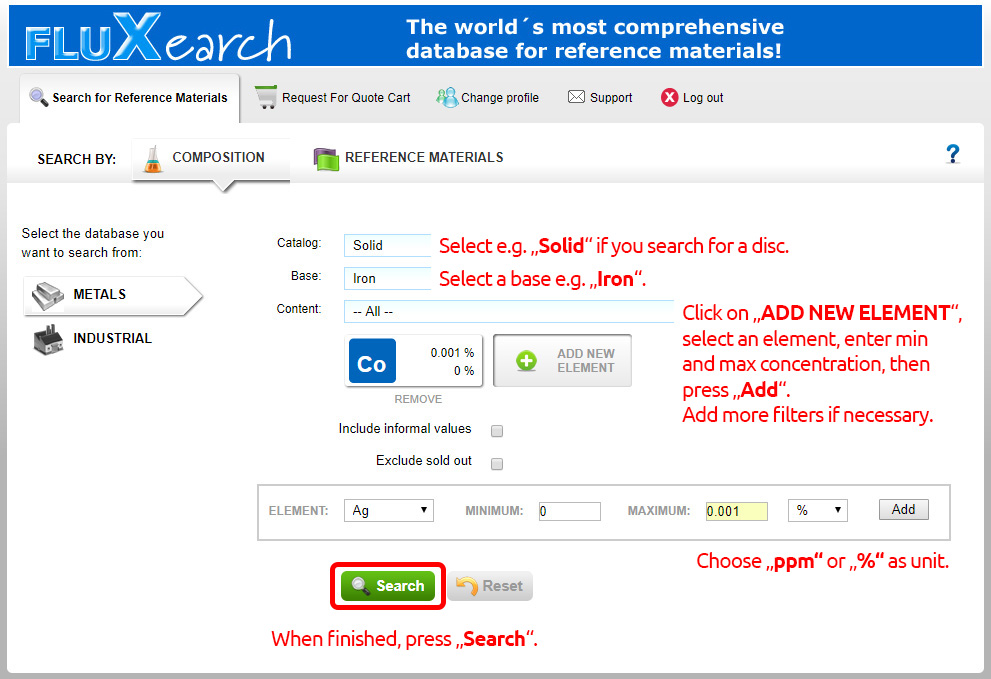 If your search is successful, a list of standard materials will appear.

To see all information for a CRM click on the blue Part#.
If you find an error or you have important information about a CRM you can send a comment 
to the database manager.

The column status provides additional sales information:
Available:

this CRM is 

available 

for sales, a quote will be issued immediately

Sold out:

this CRM is no longer available

Price request:

availability is unclear

 

and must first be checked with the producer

Set:

this CRM is part of a set and is not sold individually. Click on the part# to get full information. Under "Set" you will find the part# for the set.
If you ask for a quote for this CRM the full set will be quoted.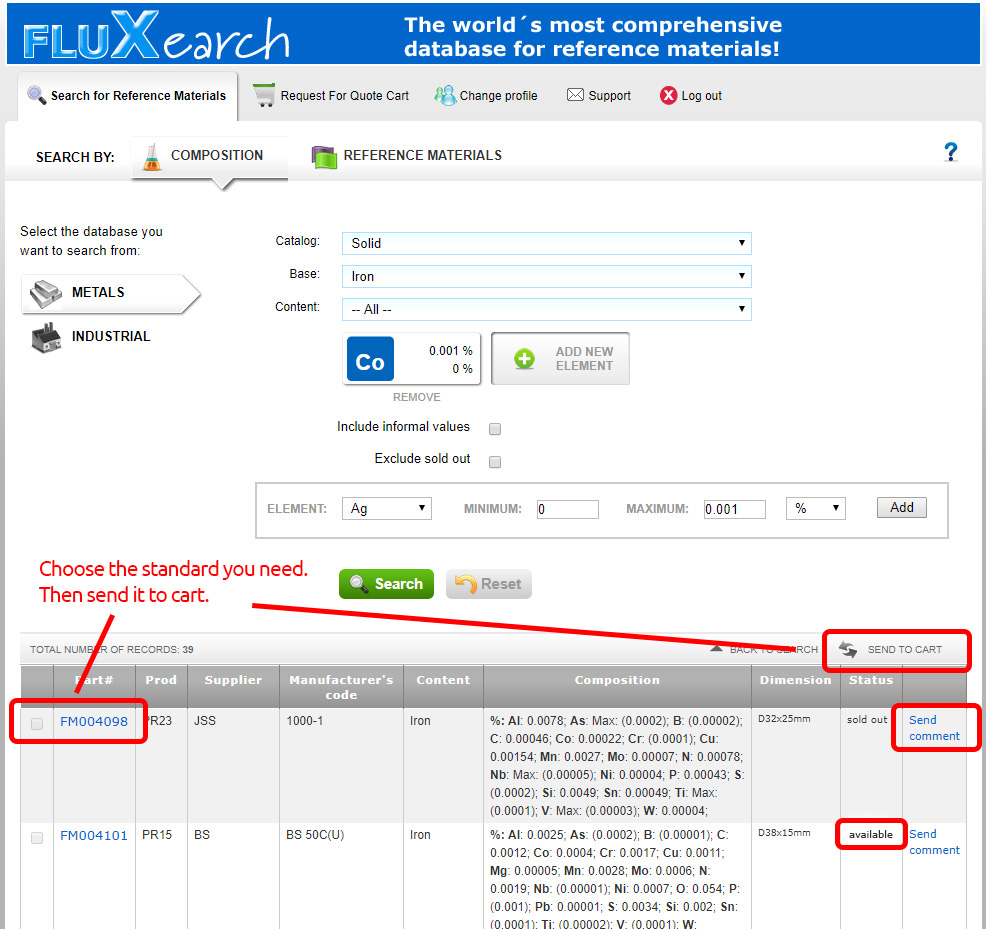 User information (PDF download)
---
3.) Search by Reference Material
You can search using a FLUXANA Part# e.g. FMxxxxxx.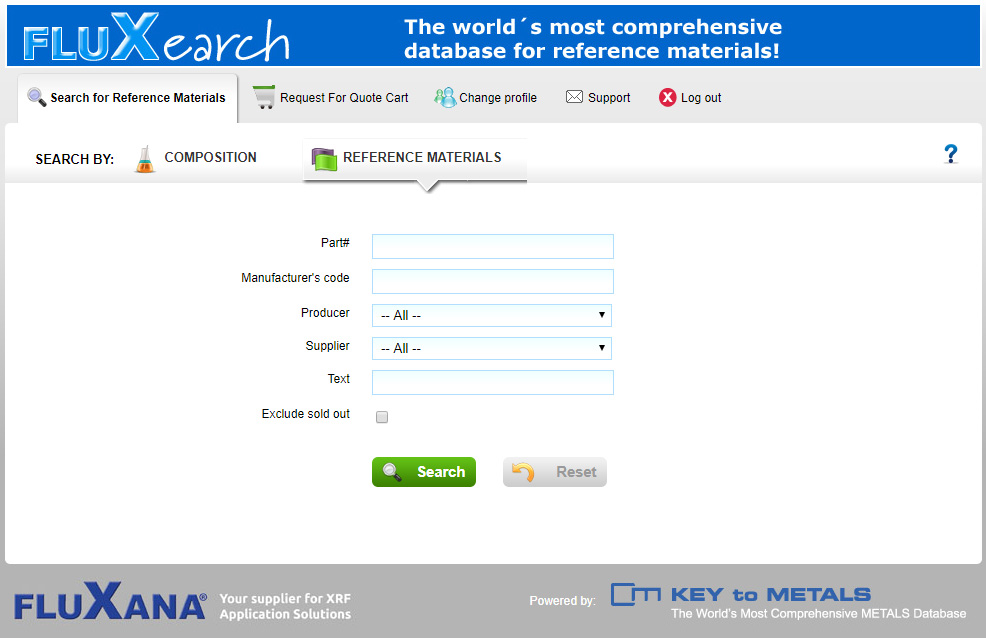 Or you can search all CRMs with an internationally known supplier code, e.g., NIST, BAS or, in this example, CKD.

The result is shown here: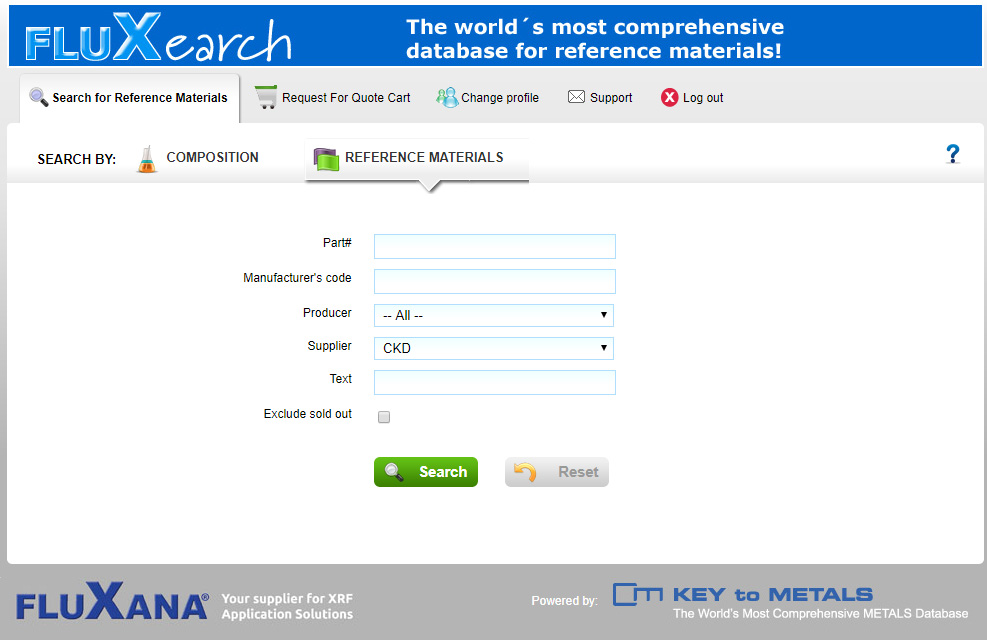 As previously shown you can select CRMs and save them to the cart.
User information (PDF download)
---
4.) Ask for a Quote
To request a quote, go to the cart.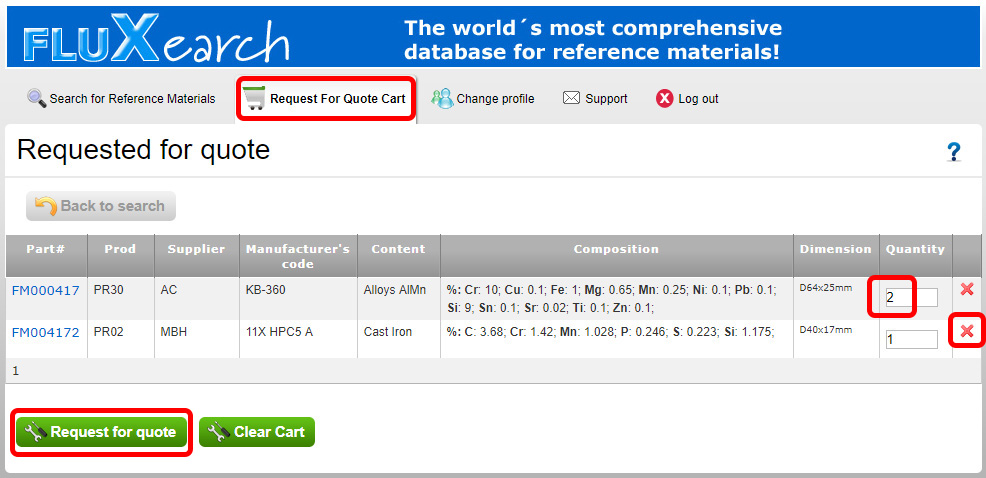 You will find a list of all the standards you selected.

Define the quantity.

You can delete a standard or clear the whole cart.

To ask for a quote click on "Request for quote". You can also add a comment before the list of 
CRMs is sent to FLUXANA.

You will receive a quotation as soon as possible, normally the same or next working day.

If you leave FLUXearch without submitting the cart to FLUXANA, it will be saved until your next visit.
We wish you a successful CRM search with FLUXearch!
User information (PDF download)
---
5.) Video Tutorial
FLUXearch, the new web-based search engine helps you to find commercially available 
certified reference materials for optical emission and X-Ray fluorescence spectroscopy.